Because when we celebrate leaders of today, we inspire leaders of tomorrow!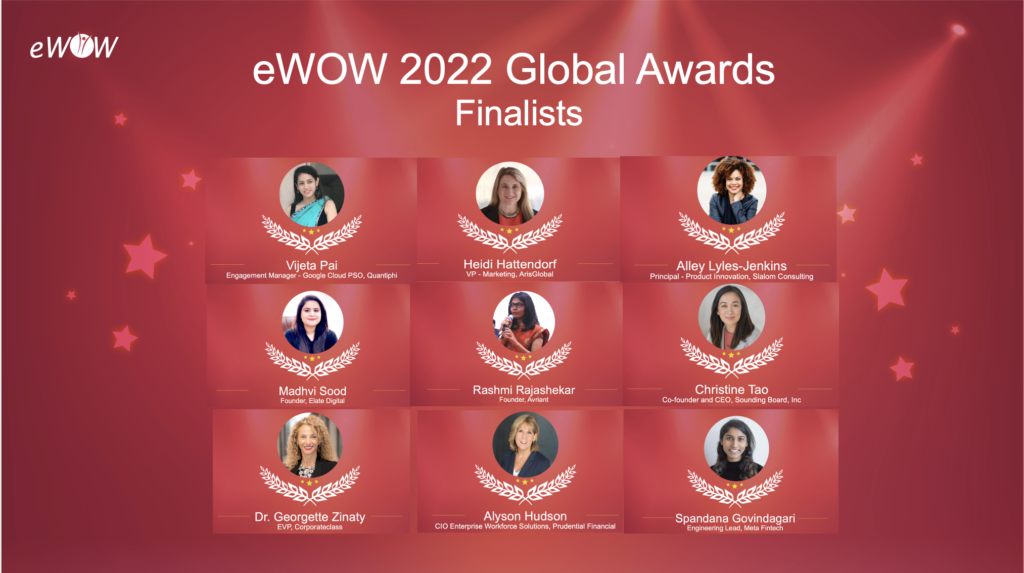 The eWOW 2022 Global Awards include the Technology Leadership, Entrepreneurship Excellence, and Diversity and Culture Leadership Awards. The award ceremony will be held on April 23, 2022 at eWOW 2022 Virtual Summit.
These awards recognize women leaders for their exemplary achievements, leadership, and contribution in their field and impact on the society. The last day to submit nomination is March 15, 2022.
Award Categories:
     * eWOW Technology Leadership award for innovation and excellence in technology.
     * eWOW Entrepreneurship Excellence award for founders (for profit or non profit organizations) who have successfully built startups.
     * eWOW Diversity and Culture Leadership award for launching diversity initiatives at workplace.
Participation and Eligibility:
    * Individuals can enter by applying online using the Nominate Now button above. Self-nomination is welcome.
    * The application form must be completed in English.
    * Individuals can apply for one or several award categories.
    * Incomplete entries will be disqualified. 
Nomination for the awards is free of charge. Watch the video below before nominating.